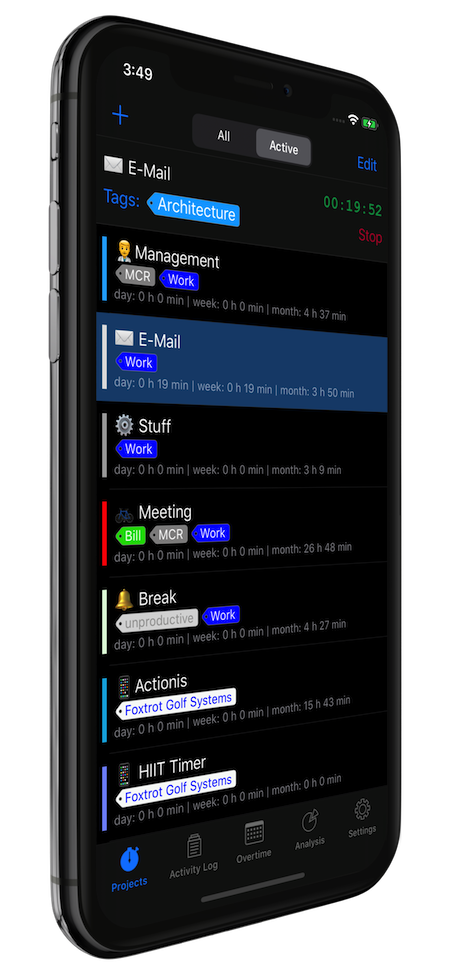 Track projects, tasks, customers with one tap on iPhone and Apple Watch.
Always know how many hours you have worked, your current overtime, and when to leave.
Control from your wrist: Switch projects and tags and get a summary of your day's work in the Actionis Apple Watch app.
Complications: Display today's work duration, the current project, and the time to leave directly on your watch faces. Now with multiple complications for several complication families.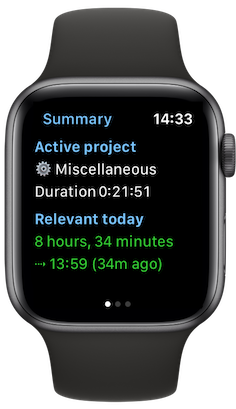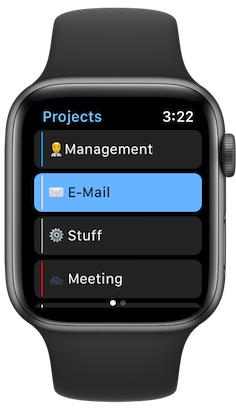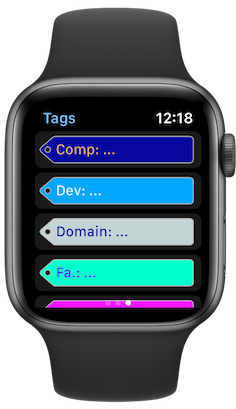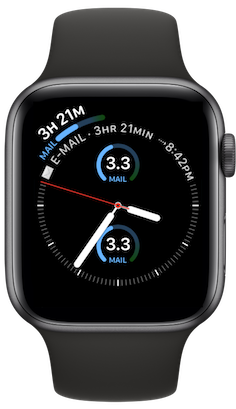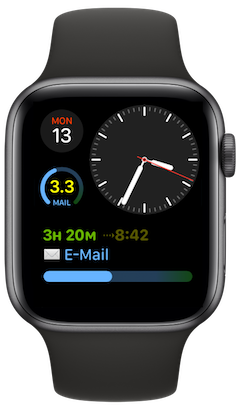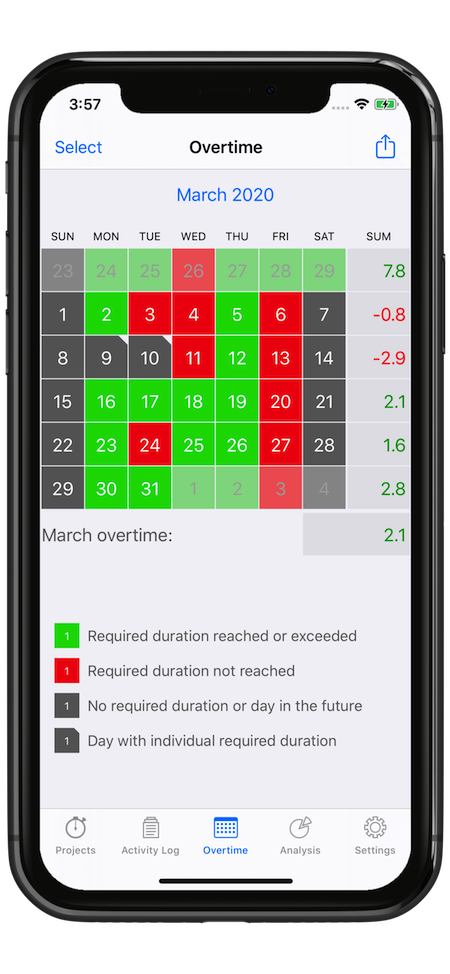 Always know your daily, weekly, and monthly overtime.
Automatically subtract fixed breaks (e.g. 10 min. per day), time-based breaks (e.g. break from 9:00 a.m.–9:15 a.m.), and duration-based breaks (e.g. at least 45 min break after 9 h of work).
Privacy: All data stay on your device unless you explicitly export them or back them up.
Your data are yours: Export all your tracked activities as human-readable XML files to use them elsewhere—or to import them back into Actionis.
Native iOS: Actionis aims to fit perfectly into iOS and uses native iOS user interface features wherever feasible.
One-time purchase: We at Actionis hate subscriptions—Actionis' full power can be unleashed with a one-time in-app purchase.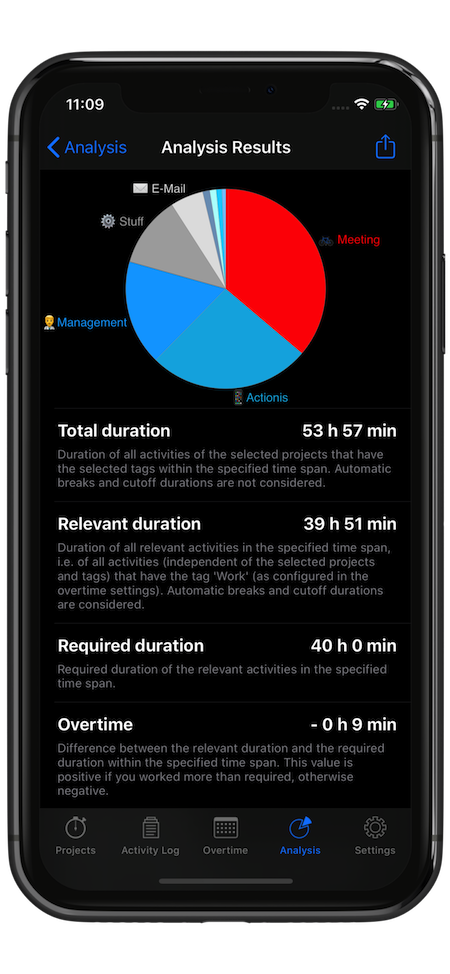 Filter and analyze your activities to get detailled information on relevant work durations and overtime.
Export your tracked activities and overtime reports as comma separated value files (CSV) for further processing e.g. with Microsoft Excel.
Tags and keywords: Characterize your activities with (hierarchical) tags—or use a keyword if you don't want to create a tag first.
Time zone support: Actionis gracefully handles time zone changes—even if they occur in the middle of a tracked activity.
Notifications: Receive notifications when reaching your daily, weekly, and monthly working hours—or a few minutes earlier or later.
Find your activities: Find your activities from the iOS search—or use the one that is built into Actionis.
Widgets: See your relevant durations and overtimes directly in a widget—no need to open the app.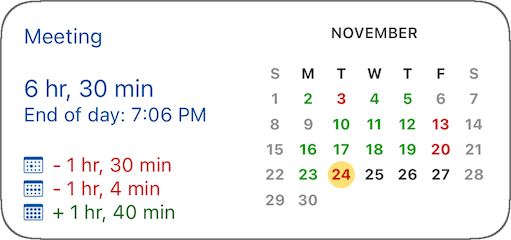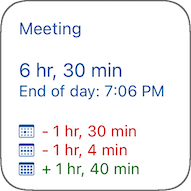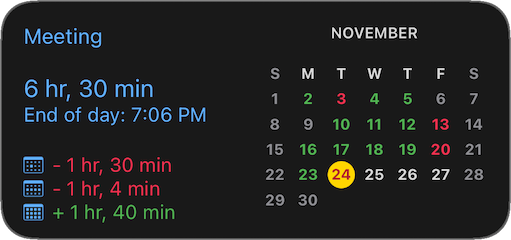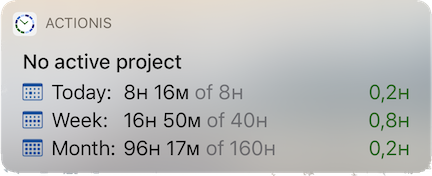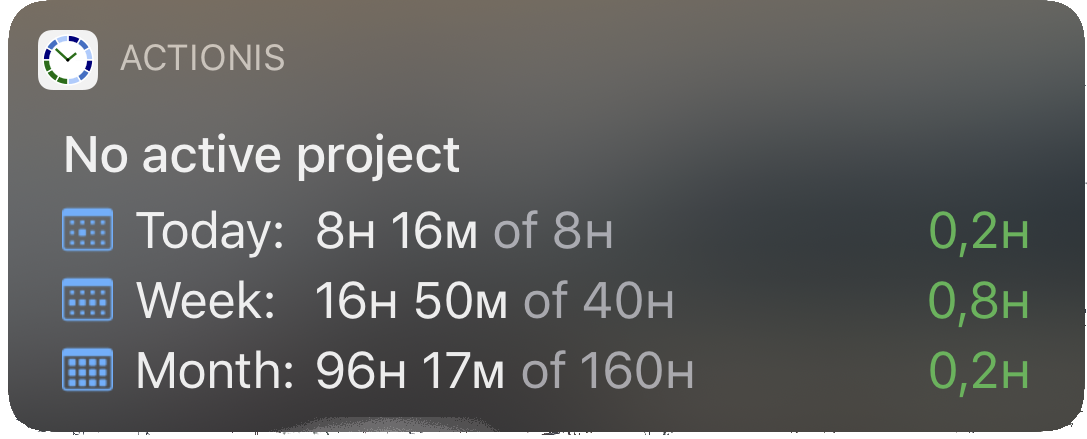 Actionis Pro is the one-time in-app purchase Pro variant of Actionis with additional features (see table).
| Feature | Actionis Free | Actionis Pro |
| --- | --- | --- |
| Unlimited number of projects | yes | yes |
| Unlimited number of tracked activities | yes | yes |
| Unlimited number of tags | yes | yes |
| Hierarchical tags | yes | yes |
| Add tags to multiple activities | no | yes |
| Remove tags from multiple activities | no | yes |
| Activity keywords | yes | yes |
| Add keywords to multiple activities | no | yes |
| Remove keywords from multiple activities | no | yes |
| Time zone support | yes | yes |
| Overtime overview | yes (no automatic breaks) | yes |
| Overtime report export | no | yes |
| Automatic break handling | no | yes |
| Multiple time spans with required durations | no | yes |
| Database export/import | yes | yes |
| Analysis | yes | yes |
| Notifications | yes (fixed time only) | yes |
| Home Screen Widget (iOS 14) | yes | yes |
| Today Widget | no | yes |
| Apple Watch: Summary | yes | yes |
| Apple Watch: Project change | yes | yes |
| Apple Watch: Tag change | yes | yes |
| Apple Watch: Complications | yes | yes |